Treemadio is a new Pokemon that exists in Snakewood. It is a Ghost/Grass type pokemon with the possible abilities Chlorophyll and Effect Spore.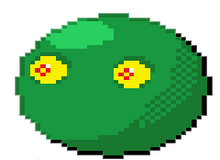 Pokedex Entry #193
Type: GRASS Color: Green Height: 16.0m or 52'6" Weight: 100.0 kg or 220.5 lbs.
TREEMADIO is the largest of the MADIOS. It feeds mostly on WAILORD. However, it is very light.
Base stats
| Stat | Value |
| --- | --- |
| HP | 255 |
| Attack | 15 |
| Defense | 75 |
| Special Attack | 15 |
| Special Defence | 75 |
| Speed | 45 |
| Total | 480 |
Learnset
By Level Up
| Level | Move | Type | Power | Acc. | PP |
| --- | --- | --- | --- | --- | --- |
| 01 | Teleport | Psychic | -- | -- | 20 |
| 05 | Frenzy Plant | Grass | 150 | 90 | 5 |
| 11 | Flash | Electric | 40 | 75 | 20 |
| 17 | Facade | Normal | 70 | 100 | 20 |
| 24 | Ingrain | Grass | -- | 100 | 20 |
| 30 | Leech Seed | Grass | -- | 90 | 10 |
| 33  | Leech Life | Bug | 20 | 100 | 15 |
| 41 | Synthesis | Grass | -- | -- | 5 |
| 52 | Baton Pass | Normal | -- | -- | 40 |
| 60 | Amnesia | Psychic | -- | -- | 20 |
| 66 | Spore | Grass | -- | 100 | 15 |
HM's and TM's
| TM#/HM# | Move |
| --- | --- |
| TM 06 | Toxic |
| TM 10 | Hidden Power |
| TM 11 | Sunny Day |
| TM 17 | Protect |
| TM 19 | Giga Drain |
| TM 21 | Frustration |
| TM 22 | Solarbeam |
| TM 27 | Return |
| TM 29 | Psychic |
| TM 30 | Shadow Ball |
| TM 32 | Double Team |
| TM 40 | Beat Up |
| TM 42 | Facade |
| TM 43 | Secret Power |
| TM 44 | Rest |
| TM 45 | Attract |
| TM 46 | Thief |
| TM 47 | Steel Wing |
| HM 01 | Cut |
| HM 05 | Flash |
| HM 06 | Rock Smash |